MenOpause, When Art Thou?
Hey There!
Where are you?
It's me again, Nkem.
I still live here in Texas.
Been calling you,
texting you, and
praying for you to see me and say hello.
But there's not a sign of you or from you.
What is going on?
I am now 50!
I've heard about you, and
how brutal you can be.
How inconsiderate!
How unfriendly!
No need to ask you WHY.
You know how you are,
what you can do,
and you have been for years.
We all know.
Millions of women that is.
It's your nature,
and it runs in your family.
After all, your sister, Ms. P, is mean and nice.
She's partial to those she wants to be nice to,
but intentionally punishes women like me.
Maybe because,
back in high school,
we called her, Mr. John.
Not sure why or who came up with that nickname.
You see,
I met your sister when I was 13,
and she was nice to me for many years
until I had my 4th child 16 years ago.
And then, she turned on me.
She became as ruthless as I heard that YOU can be.
Oh! What she does to me is unbearable.
The way she hugs me with PMS
is neither warm nor friendly.
Her cramps disable the core of my being.
I try to calm her down,
with treats like herbal teas,
hot towel, or hot water bottle,
aromatherapy massages.
I even give her two shots of tequila,
yet, she is feisty,
and kicks me harder with her hands and legs.
With her long, sharp nails too,
like she's asking me to punch and scratch her back.
But I am not a fighter,
I am a lover.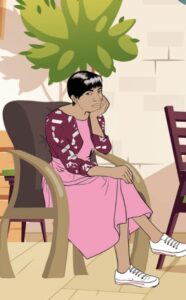 At 50,
your sister still tortures me.
She's ruining my life
and shows me no mercy every month.
My friends jokingly mock me,
"You should be ashamed that you still see your period."
But guess what?
I am not ashamed.
Why should I be?
To have experienced your sister was
my sign that I could bear children.
I did and had four wonderful ones
that I call my "Fantastic 4."
Sixteen years is too long to
be in this painful relationship
with your sister.
I am tired of her hugs and tortures.
I am hopeful that you will soon visit me,
but on three conditions.
Don't stay too long,
don't hug me tight with hot flashes,
don't dry me up,
be kinder than your sister,
and please, please, do not wreck my sex life!
Here and now,
I am officially inviting you over to dinner.
It will be just the three of us;
you, me, and your sister.
I need you to convince her to go home,
that it's your turn to spend time with me,
but not for long.
I hope you will hear me this time
and grant my one wish from you.
I will remain in the suburbs of Houston until you come.
On the day of your arrival,
I'll sing,
Here comes menopause
Here comes menopause
Right down Menopause Lane,
Here comes menopause
Here comes menopause
Right down Menopause Lane…
Sincerely,
Sleepless in Texas.